Christina's............
thoughts, passions, loves and dislikes.
Tuesday, January 29, 2008
some lo's that i did this weekend
Thursday, January 24, 2008
not much to say
but thought i would post anyway LMAO.
kids were home on tuesday because dyllan didn't feel good and i was cleaning and well i wasn't gonna interrupt my cleaning to take ashley to school so they both stayed home LOL.
i got tons done that day and am totally impressed that the house is still clean (kinda)
ohh tuesday i took a trip down the stair too, perfect way to end the day right? NOT lmao. i cut the shit out of my big toe and scraped my hand up. how did i fall you ask? shit don't ask me, one minute i was up and the next i was flat on my face LOL. musta been a site to see.
i finally have an appt for my physical therapy. i hope it works because i am sick to death of my pinky and ring finger being numb and tingly on my left hand.
i am still cutting strips for my quilt. i am not doing very much at a time because i cast a stupid shadow over my material when i am cutting. i need another light directly above so i can actually see what the hell i am doing. i can't wait to get it all cut and then i can start sewing :D i have to say i am quite nervous to start sewing. i don't want to screw it up lol.
i haven't scrapped i think since last friday lol feels like forever even though it's not. my wright board is having a crop this weekend though so that should get me going this weekend again and then if i run out of steam my lp board is having a crop in feb so i think i have enough crops to keep me going. i so want to get done with ashley's two year album. i am so sick to death of doing pics of her at that age LOL i know i know that is horrible of me but i am LOL i want to move on and do other stuff but my OCD says NO you have to finish UGGH we have screaming matches sometimes LOL. HA!!!!! this is a lo that i did friday i think (could have been saturday but not sure) and a few ppl on my wright board said i should color the naked chipboard. but i like it the way it looks. what do you guys think? and if so then what color?
well today isn't much, just have to go to bank, order jason's books, do dishes and laundry and cook dinner. i don't wanna do any of it except sit on my arse.
well love you all and ttyl
Monday, January 14, 2008
i'm a scrappin fool LOL
and loving every minute of it. these are some of the lo's that i have done so far. i don't know what happened but the bug just bit me and it feels good. i have to say though i think i only got one done yesterday or maybe it was two. yes it was two that i got done yesterday.
on another note, my house is a stye AGAIN and my tree is still up LOL. i have energy but it isn't house energy LOL it's creative energy. i need to get that tree down though. it's driving me nuts and then i need to clean clean clean LOL.
dyllan had a friend over friday night and they all chipped in and CLEANED my whole house. okay i mean the kitchen (ashley did this part) and the living room and hallway. i was totally stoked. they swept and everything. then on saturday it was all messy again. UGGH KIDS!!!! ohh well what can i do. LOL
ps: thank you sis (M) for posting about ashley and itp on your blog. my sis has posted about the crop to her myspace friends and on her other ttc board. also krista is posting about it on her other boards too. her friend has ITP recently diagnosed and she is not doing well. they have removed her spleen and she is on chemo drugs and her platelets are at 14k, normal is 150k-400k. she spends her days in the hospital and has now for months. I feel so bad for her.
i hope and pray we can raise lots of money for research.
Tuesday, January 08, 2008
arrrgh
it feels like there is not enough time in one day. I have yet to take down my stupid tree and my house is GROSS! yesterday was monday and well mondays always feel overwhelming. why? well cuz i want to get so much done and yet i never get anything done. why do i do this? i have no idea.

so what did i get done? well i got two loads of laundry done and dishes done (thanks to ashley) and then went to my doc appt. that took almost three stinkin hours LOL. drive there, doc appt time and drive back.

last night we had family time and it was nice, we never do this. why? not sure i guess cuz we are all doing our own thing? anyway dyllan got this puzzle for xmas and we started putting it together. we will do more of it tonight but i HAVE to move it to the kitchen table because i can't sit on that stupid floor. way to hard on my back and neck and well my whole body LOL. damn i really need to drop some weight because it certainly doesn't help my back, neck or whole body being at 180.

today i am going to scrub the bathroom down cuz it is GROSS.
Thursday, January 03, 2008
lo i did yesterday
has these words on the tag (it's originally in spanish but my big sis M translated for me and well i wanted to use it on a lo and i think it's fitting for any loved one that you have)
una palabra
One word doesn't say anything and at the same time hides everything, just like the wind hides the water , like the flowers hide the mud.
One look doesn't say anything and at the same time hides everything, just like the rain on your face, or an old treasure map; just like the rain on your face, or an old treasure map.
One truth doesn't say anything and at the same time hides everything, just like a bonfire that doesn't go out, like a rock that was born dust.
If one day you leave me (or are missing literally) I will be nothing and at the same time I will be everything because in your eyes are my wings and the edge where I drown.
and here is the lo
Tuesday, January 01, 2008
THANK GOD
2007 IS OVER OVER OVER.........ding dong the wicked witch is dead LOL.
we celebrated the new year by ourselves playing pool and cards online LOL. i would have joined the lp crop but i was cropped out from the mini book i made for my momma.
ashley was gonna stay the night at her friends house but then at 10ish she had to come home because she puked (i guess she had a little bug). so she zonked out on the couch with a pan right next to her, poor kid. i felt so bad for her.
dyllan was gonna stay the night at a friends house but the gramma of the friend said that this punk neighbor of mine could stay the night first so dyllan came home with a migraine and zonked out by 7pm, poor kid. his poor head was hurting so bad that he was just balling and his tummy was all upset. i felt so bad for him.
what great ways for them to ring in the new year eh?
i did manage to stay awake till midnight too LOL pretty amazing eh? LOL
omg i got to see my nephew after 14 yrs of not seeing him. he has been with his mother in oregon and i had no way of getting a hold of her and my brother was let's just say not making good choices. anyway my brother is clean and sober for 4yrs now and is doing awesome. it feels so good to have him back after not being in my life for soooooooooo long.
anyway here are the pics.
dyllan and roman (my nephew)
ashley, roman, dyllan and tommy (my brother)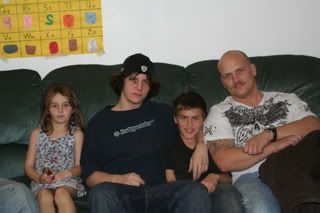 roman and his dad :D being goofballs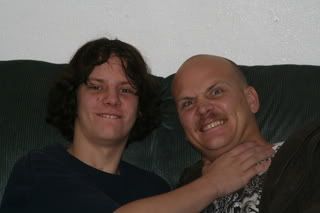 ashley, tommy and roman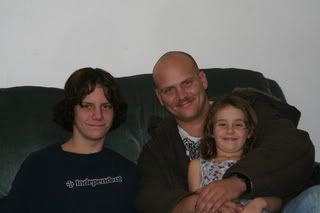 and last but not least roman, tommy and I